Loss of cognitive function is something that many people fear and work to prevent. When dementia occurs, the ability to think, remember and reason become significantly challenging. Because there is no cure, it is important to understand the severity of dementia as well as the signs it's time for a bit more help. 
What is Dementia?
Dementia is not a disease itself. Dementia is a group of conditions that impact memory, thinking, and social skills. It is normal to experience a change in behavior as we age, however, dementia is defined as a critical decline in mental capabilities and routine functions. While there is no cure for dementia, early diagnosis and routine care can help reduce the intensity of these symptoms and create a better quality of life. Some of the conditions that may result in a dementia diagnosis are:
Memory Loss and Distortion
Loss of Vocabulary
Changes in Mood and Disposition
Faulty Reasoning
Disorientation
Trouble with Comprehension
Balance Problems
Lack of Self-Care Tendencies
Change in Appetite and Eating Habits
Loss of Social Skills
Why Is Dementia Care Important? 
Because dementia affects everyone differently, there is not a one-size-fits all approach when it comes to necessary care. Each individual living with dementia has unique needs, and those needs will change over time. This is one of the many reasons why ongoing dementia care is important to consider and plan for. 
Different types of facilities provide different levels of care, depending on the individual's needs. In the later stages of dementia, it becomes necessary to provide 24-hour supervision. It is important for those in the mid-to-late stages of cognitive decline to receive assistance with daily tasks such as bathing, eating and medication management. Ensuring quality of life and safety is a critical step in caring for someone with dementia. 
Living with physical and cognitive impairments can make daily tasks difficult. Unfortunately for some, the need for long-term dementia care isn't recognized until an accident happens. While the idea of transitioning to a facility can feel overwhelming, the benefits of one-on-one assistance and safety make it all worth it. 
Dementia Care at Lavender Hills 
English Meadows has created a dementia care program that goes beyond general care. The Lavender Hills facility supports those living with dementia by establishing daily routines, encouraging socialization and promoting self-worth. Daily routines help people living with dementia navigate their world in a predictable way and add a sense of order. This is an important component to anyone suffering from cognitive decline. 
An example of how we do this is personal shadow boxes. We find that seniors in memory care can better recall themselves from earlier years in their lives. At Lavender Hills, our residents choose a photo of themselves that they remember for us to display outside their room. This helps residents recognize it's their personal environment and feel more at ease.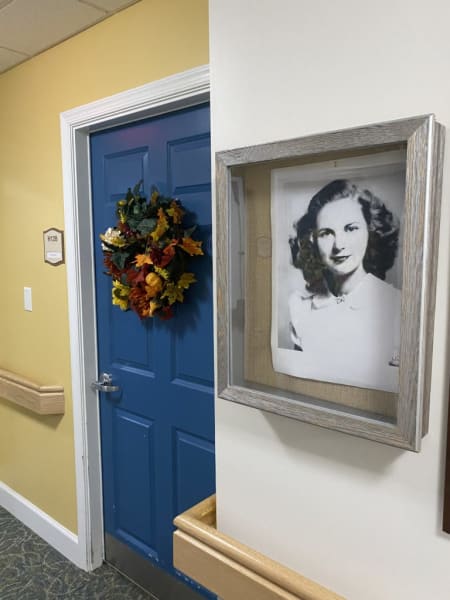 Keep in mind, that regardless of where the care takes place, the decision is about making sure the person receives the care they need. If you have any questions regarding dementia care at Lavender Hills, we encourage you or your family to give us a call at (800) 796-5420