When the time comes to consider a senior living community for yourself or a loved one, it's important to remember that these facilities are in place to enrich quality of life and promote overall happiness. Often enough, people look at senior living communities negatively, associating the transition with giving up or losing independence. While making this transition can feel overwhelming, there are ample benefits that make this change exciting and rewarding for yourself and your loved one. Here are a few of the many reasons why senior living communities are a beautiful place to live out your senior years!
General Well-Being 
The benefits of transitioning to a senior living community are countless, but the glaring mission behind these facilities is to support overall health and wellness. Joining a senior living community means that you will have access to mental and physical healthcare at all times. Because there is a tight focus on mental and physical health, there are countless support systems in place to ensure each resident embodies the best version of themself. 
Security and Safety 
Feeling safe and secure is important to people of all ages, but as we get older, the need for ongoing safety increases. One of the greatest perks is that senior living communities entitle you to 24-hour care. Whether you need ongoing attention or are more independent than others, senior living communities ensure overall safety and prevention from devastating accidents. Because accidents can happen, the safety and security of these facilities provide a great sense of relief for seniors and their families. 
Connection and Companionship
Many seniors live alone and have lost close friendships throughout the years. Alongside this, busy schedules can make it difficult for family members to be as involved as they would like to be. Living at a senior living community allows for new friendships to grow, while providing a sense of companionship from caregivers and close relatives. Aside from the communal living space, there are plenty of opportunities through on-campus activities that promote socialization and friendship building.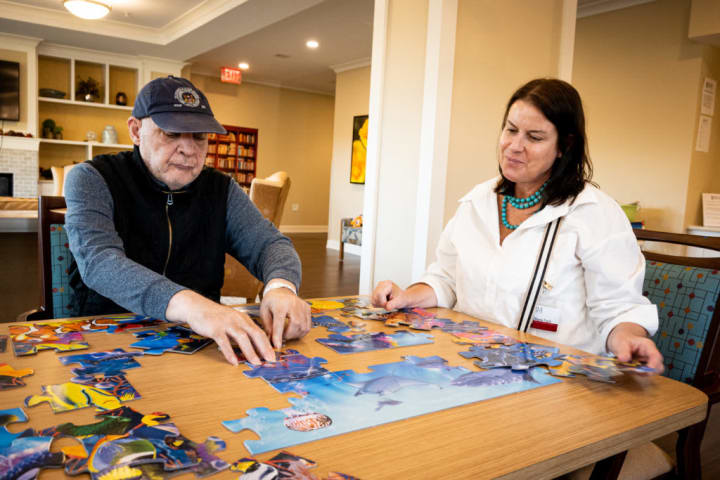 Activities 
Daily activities are an important part of senior living communities. Whether you are interested in games, exercise, arts and crafts, or community clubs, there are plenty of opportunities available to ensure your mind and body are actively engaged and stimulated. Aside from the health benefits of these activities, they are a fun and exciting part of daily life that you may not receive living at home!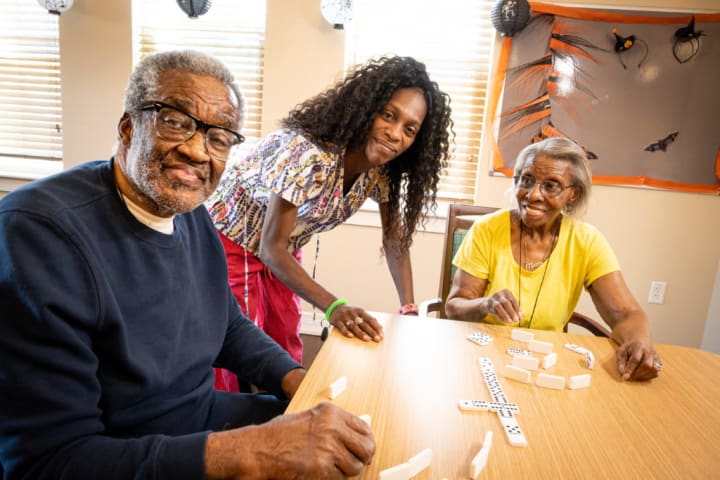 Good Nutrition
Proper nutrition is an essential part of daily life. Living at a senior living community ensures each resident receives balanced meals, tailored for their unique needs. Whether you are diabetic, have food allergies, or a picky palate, you'll never have to worry about missing a meal, grocery shopping or lacking necessary nutrition. At English Meadows, our Chef Bobby creates incredible gourmet meals, mentors chefs at each campus, and sources local ingredients from English Meadows Farms.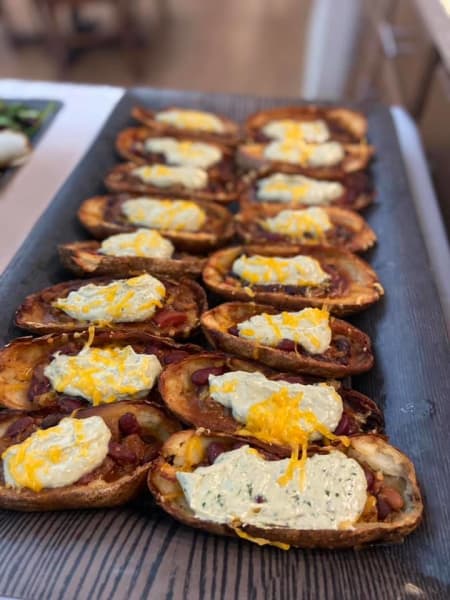 Self Care 
Every resident has unique needs, and it's important that those needs are met. Especially the components that provide quality of life. While some residents are more independent than others, individuals that need help with daily tasks such as bathing, dressing or oral hygiene benefit the most from a senior living community. Choosing to live on campus means that you will receive the help and guidance you need, without feeling lost or ashamed. Self care is vital to health and happiness, therefore it's one of the greatest benefits of joining a community!  
Transportation Services 
If you no longer drive but still wish to explore your city, transportation services will be another great benefit to joining a senior living community. Many communities offer transportation services to hair salons, grocery stores, local shops and more! 
Dementia Care 
Living with dementia or similar cognitive impairments can make daily life incredibly difficult. As memories fade and cognitive abilities decline, it is incredibly important to make accommodations for necessary care. Many senior living communities, such as the English Meadows Lavender Hills facility, offer ongoing dementia programs to ensure daily needs are met and accidents are prevented. Dementia programs are also a great resource for regulating medication, noticing when new health concerns arise, and stimulating cognitive function through activities.